During these turbulent times, we need to consider the safety and comfort of not only ourselves but our furry feline friends as well. As the days will surely get warmer, outdoor cats may be seeking shelter from the hot weather.
There's no need to head out to the pet store when you can fashion your own outdoor cat house that's completely DIY! Here's how.
Find the right materials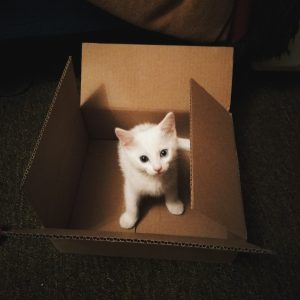 Firstly, you'll need to find some materials that are sturdy and resistant to make your outdoor cat house out of. Options can include plastic, styrofoam, cardboard and wood. There are many pros and cons with choosing these different materials, it all depends on the function of the cat house and the extent of protection and shelter you want to provide for your furry feline. The following are different variations of cat houses you can make with simple tools.
Plastic Box Outdoor Cat House
This is an easy and affordable version of a cat house you can make that requires minimal tools. The pros to this cat house is that it is scratch-proof, so your feline furbabies won't be destroying it all on their own and it's water-proof during rainy days.
Cons to this would be that it is lightweight and may not withstand particularly rough weather.
To make this, get yourself a big plastic container or box. An 18-gallon plastic tub or anything similar with a top lid will work fine. You can line the inside with egg cartons or soft bedding and seal the top shut.
Now, you'll work on making the entrance to your outdoor cat house. You can either map out a square opening that will be large enough to fit your cat (make sure to leave some extra spacing all around, you don't want to get your poor cat stuck) and slice out an opening with a saw or plastic cutter.
Another fun option is to cut out a hole instead of a square and fit in a PVC pipe for your cat to slink in and out of. Again make sure there's ample space all around to ensure no one gets stuck.
Styrofoam Cooler Outdoor Cat House
This is probably the easiest option for you if you're facing time constraints and need a temporary fix for an outdoor cat home. All you need is a Styrofoam cooler which you can easily get from your local grocery or hardware store and some cutting materials.
The advantage of this makeshift house is that it is lightweight so it's easily transportable. If the going gets tough you can quickly bring your rescued cat (already in the cat house) indoors to safety.
Of course, the cons to this lightweight material is that Styrofoam is extremely fragile. If you're fostering a feral cat expect it to get scratched out.
To make this cat house, just get yourself a Styrofoam cooler box from your nearest store. Insert some form or bedding inside and tap the top. Similar to the plastic box version, you'll map out an entrance or a flap for your cat to get in and out. Make sure there's ample space and cut out an entrance. And you're done!